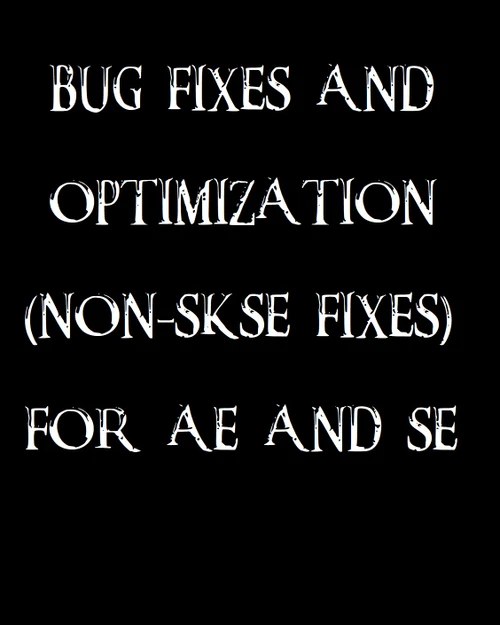 Bug Fixes & Optimization (Non-SKSE)
Only bug fixes and optimization mods that don't require SKSE, nor SkyUI, so, it is completely version independent, working on both AE (1.6.353) and SE (1.5.97 downgraded best of both worlds). This was previously merged with my other essentials collection, but I decided to split up and make several mods optional. Check the description out.
Revisions

5

Last updated

9 hours ago

Created

Jul 22, 2022

Downloads

52
Description
Probably the largest collection regarding essential fixes that don't require SKSE, so it works for both AE and SE. If you're looking for essential mods with SKSE please check one of my other essentials collections:
---
What are the optional mods?
The mods that are optional are not bug fixes, but are essential mods I can't imagine playing without, so check if it is for your taste.
---
Requirements
Skyrim Special Edition updated (Anniversary Edition or Downgraded 1.5.97 Edition)
YOU NEED THE NEW CREATION CLUB CONTENT! If you don't, you have to download older version of USSEP and disable eFPS Anniversary Edition.
---
Compatibility and patching
USSEP sometimes requires patches, each case is specific and sometimes it is irrelevant.
eFPS requires patches for modded towns and etc, you can download them through its pages:
---
My collections:
Essentials:
Vanilla Overhaul:
Gameplay, Immersion and Animations:
Graphics, Models, and/or Visuals:
UI, Interface, and Quality of Life: