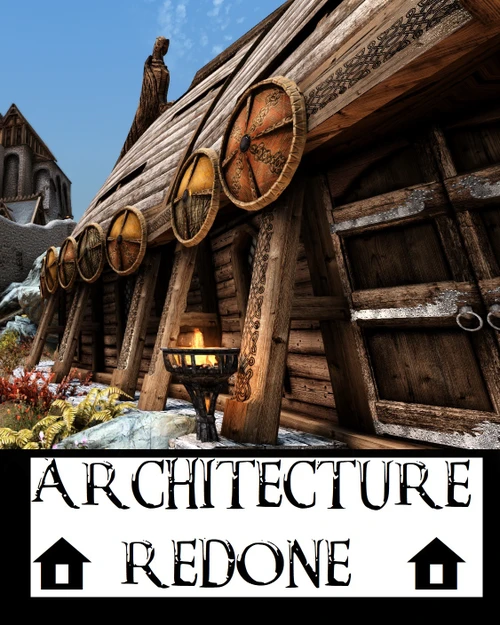 Architecture Models Redone - 2K
Retexture for all of Skyrim Architecture, performance friendly 2K-1K versions of the mods. Has the whole FYX series by Yuril, SMIM and more. Only for AE (1.6.353 version), SE has a version linked in the description.
Revisions

9

Last updated

2 days ago

Created

Apr 09, 2022

Downloads

281
🤯Troubleshooting/Support
Support for all my collections via Discord
🇵🇹-🇧🇷 Suporte para todas as minhas coleções via Discord
🇪🇸 Soporte para todas mi colecciones vía Discord
---
Description
My personal collection of retexture for Skyrim architecture. Covering
Whiterun,
Markarth,
Farmhouses,
Windhelm,
Solitude,
Nordic Ruins,
Dwemer Ruins,
Apocrypha,
Forgotten Vale,
Soul Cairn,
Castle Volkihar,
Winterhold,
Mines,
Orcs Strongholds,
Sovngarde,
Riften and Ratway,
High Hrothgar,
Skyhaven Temple,
Imperial Forts,
Fort Dawnguard,
Solstheim,
Bridges,
Dwemer pipework.
---
Notes
Screenshots are with ENB and Reshade.
As well as 4K versions, you can just use this as a modlist and go to the mod pages and download a higher res. version.
I just do not intend to do this right now, because I'd have to download and my PC can't run 4K, so.
Hope you enjoy it.
---
Simple extra instruction
Make sure Engine Fixes part 2 and SKSE64 are set as modtype = engine injector like the figure below. You just have to double-click the mod.
---
My collections:
Essentials:
Vanilla Overhaul:
Gameplay, Immersion, and Animations:
Graphics, Models, and/or Visuals:
UI, Interface, Audio, and Quality of Life:
Additions
Tiny Packs Series