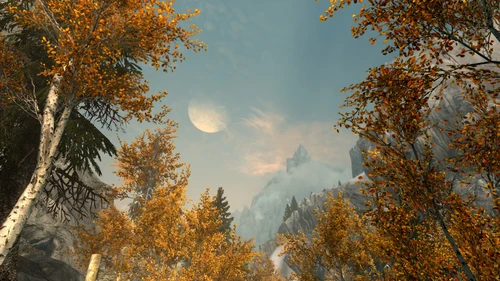 FFI - Fixes, Followers and Immersion
My collection of favourite mods for the Anniversary Edition.
Revisions

3

Last updated

3 weeks ago

Created

Aug 28, 2022

Downloads

5
Description
Mods that make Skyrim a fresh, but familiar experience, with immersive spells, better textures, lush forests and wholesome followers! If you prefer a lightly modded game, then maybe you'll enjoy this collection as well.
---
Main features
It's mainly bug fixes, quality of life HUD changes, improved textures and meshes (SMIM), my beloved followers: Shirley, Lucien and Inigo, Odin - Magic Overhaul which adds immersive spells, and Flora Overhaul - Trees Only (FOMOD version) which adds taller trees and more lush forests.
---
Requirements
Skyrim Anniversary Edition
Remember to install SKSE for AE manually from their site!
---
Performance
-With Flora Overhaul I've had an occasional drop in FPS, typically around dense forests. If you play on ultra settings, try lowering your shadow quality setting from ultra to high (iShadowMapResolution=2048 in the SkyrimPrefs.ini). I can't see any difference in the shadows and it really improves my FPS.
---
I just want to say how thankful I am for the mod creators and their work. Thank you for sharing your awesome creations! This community is like a heartbeat, that keeps this game exciting, and alive.