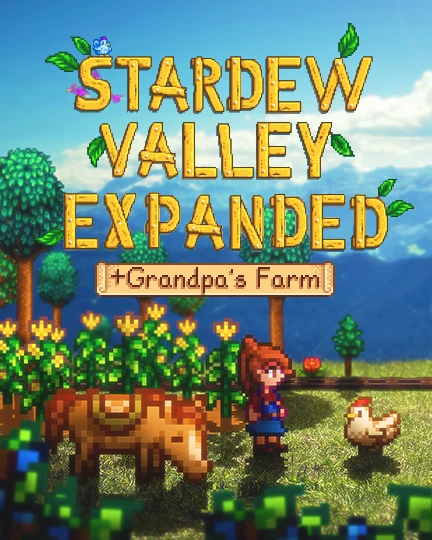 SVE + Grandpa's Farm
Stardew Valley Expanded with dependencies + Grandpa's Farm
Revisions

4

Last updated

1 week ago

Created

Feb 05, 2022

Downloads

791
Stardew Valley Expanded is a fanmade expansion for ConcernedApe's Stardew Valley. It works to build additional backstory and experiences into the world, as well as adding new maps and characters.
---
Installing
Click "Add to Vortex"
Let Vortex install the mods
Have fun!
---
Features
27 new NPCs
50 locations
260 character events
23 fish
Reimagined vanilla areas
Two farm maps (Grandpa's Farm in this pack)
A reimagined world map reflecting all changes
New music
Questlines
Festivals
Many miscellaneous additions!
---
Optional Mods
These mods are optional but are recommended.
---
Thank you
Thanks to all the mod creators for making this fantastic collection possible, and thanks to you for checking it out.
Make sure to support the mod creators if you enjoy the mods.
---
Keybinds
Editable in Generic Mod Config Menu
Generic Mod Config Menu
Horse Overhaul
Saddlebag: ToolUseKey
Feed Animal: ToolUseKey [Holding Food]
Horse Menu: H, LeftStick + DPadUP
Pet Menu: P, Left Stick + DPadDown
Alt Saddlebag/Feed: LeftStick
---
Success rate
The percentage of users saying this revision is working as expected.