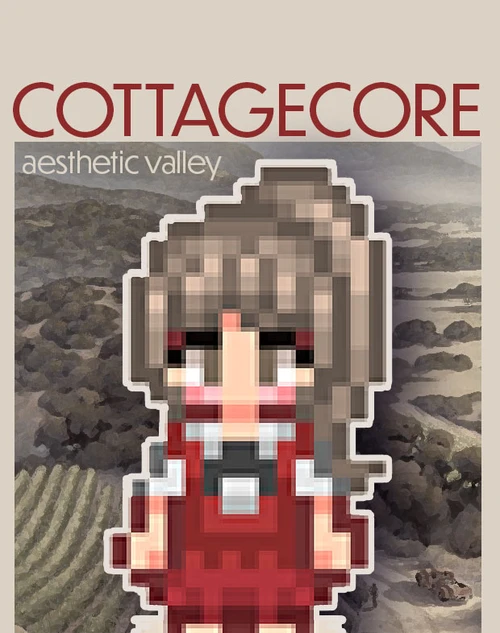 Aesthetic Valley | CottageCore
This visual mod pack is designed to create a cottage aesthetic experience for Stardew Valley and Stardew Valley Expanded.
Revisions

2

Last updated

1 week ago

Created

Dec 19, 2021

Downloads

812
Thank You
Thanks to all the mod creators for making this collection possible, and thanks to you for downloading and endorsing this collection.
Please support creators and endorse the individual mods if you enjoy them!
---
Please review optional mods when downloading! While not required, they are all recommended and work well together. All requirements for Stardew Valley Expanded are included in this collection. Installing ONLY required mods will result in a vanilla SVE experience!
---
Configuration
Access the configuration menu from the button on the title menu, to make these recommended configuration adjustments for best results.
Boogies Tidy Crafting Used to sort the crafting menu by size. Turn off Rare Seed/Burglar Ring and keep all other settings to OFF.
Configurable Cute Hit Marker color: pink, shape: heartthick, no checks (though you can really play with this!)
Earthy Recolor enableDigSpot OFF — The one from the Vintage Interface is recommended instead of this one.
Medieval_buildings RecolourOverwrite DNEarthyRecolor, plus you may want to swap all "more" to "less" to reduce the flowers on buildings. Also recommended ShipBin option 2, steel and moss.
Medieval_Craftables RecolorOverwrite: DNEarthyRecolour
MSVE DNEarthyRecolour
Rustic Country Town Interior - White Structure ON
Way Back PT RecolorOverwrite: DNEarthyRecolour, BusChanged OFF
Select your choice of skins in Elle's New Horses, Elle's Town Animals, Farm Animal Facelift, Pet Facelift, and Warm Cozy Fireplaces!
Navigate to your installed mods and make this adjustment to enable replacing the Mariner with a Mermaid! Within the [CP] Seasonal Cute Characters > assets > Characters, change the name or just delete Mariner.png and then the mermaids should show up!
---
Want to visit some unique locations? Check out my other collections featuring original content expansions created by many talented developers!
Please note that while the contents of this expansion should be largely compatible with any of my other collections, some aesthetic effects may not effect that content. If installing with Stardew Valley Very Expanded consider the following changes for a more consistent play experience:
Disable Ana's Toned Down Sprites
Select between Grandpa's Farm or Immersive Farm 2 (only one can be active.)
Select between Lumisteria - Alternative Textures - Craftable or (CP) Victorian Craftables
Select between Lumisteria Short Flowery Grass or Wildflower Grass Field
Select between Elle's Barn/Coop animals or Farm Animal Facelift
---
Want to learn more about why this mod collection was created and talk to the creator? Join the SuperFriends Discord!
---
Changelog
02/08/2022 -- Removed quality of life mods to focus on aesthetics.
Added
Naya's Mermaid Collections
Cuter Slimes
Seasonal Flower Sprinklers
Removed
(CP)GoToWorkClint
Alternate Textures
Automate
Better Ranching
Custom Chores
Don't Enable Pam
Event Lookup
Helpful Spouses
Horse Overhaul
JA_More Elegant Farmer
Part of the Community
Sit for Stamina
Social Page Order
Spouses React to Player 'Death'
Stash Items
Success rate
The percentage of users saying this revision is working as expected.