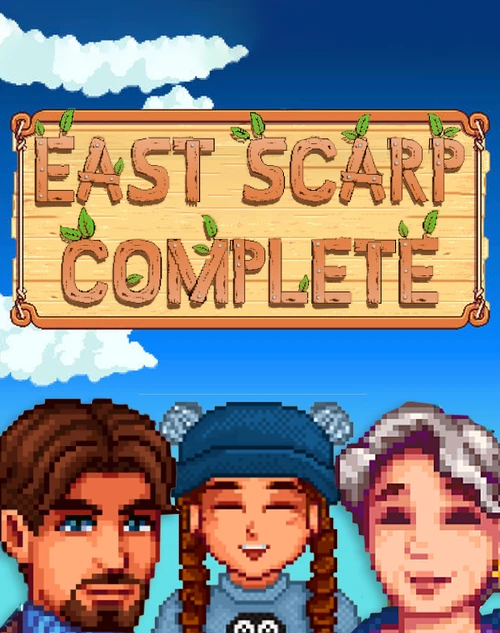 East Scarp Complete Expansion
The full collection of mods required to visit East Scarp. Tuned to work well with Stardew Valley 1.5.5.
Revisions

4

Last updated

3 months ago

Created

Dec 04, 2021

Downloads

116
East Scarp (previously Escape to East Scarpe) is an expansion set in a picturesque location by the sea adding new NPCs, locations, fish, shops, special orders... and secrets.
---
Thank You
Thanks to all the mod creators for making this collection possible, and thanks to you for downloading and recommending this collection.
Please support creators and recommend the individual mods if you enjoy them!
---
Optional NPCs
Sterling, Mia and Henry from Always Raining in the Valley are a delightful trio who will steal your heart!
Beatrice is the Lighthouse Keeper, a lovely older woman with a sad story.
Tristan and Mr Ginger extends the story of Jas and her parents.
Lavril & Void is a strange child and her guardian, the keepers of many secrets.
Juliet and Jessie are JojaMart clerks. A unique duo who will take you on many adventures!
Please review optional mods when downloading!
---
Interested in other unique locations? Check out my other collections!
Changelog
Rev 4 2022-02-12
Switched offside mods to onsite versions
Success rate
The percentage of users saying this revision is working as expected.