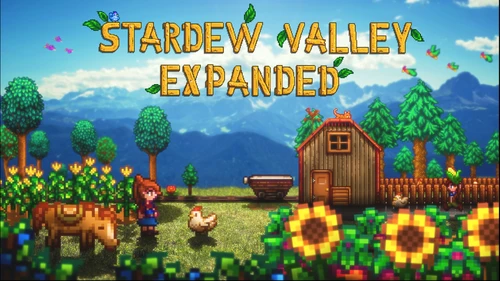 Stardew Valley_Expanded+_1.14.14
Adds a few quality of life changes to a working build of Stardew Valley Expanded (Ver. 1.14.14)
theluckywonder
Last updated:
|
Published:
Description
Adds a few quality of life changes to a working build of Stardew Valley Expanded (Ver. 1.14.14) with the Immersive Farm 2 Remastered map
Main features
Stardew Valley Expanded
Automation of Production
Quality of Life changes

Better Horse
Better cooking system
Progress Bars for most machines

Small Graphical Enhancements
---
Before you start
Vital information regarding this collection.
Requirements
Vortex desktop application
Best practices
Backup all of the following (just to be safe)
C:\Users[User]\AppData\Roaming\StardewValley

(Either the entire folder or just \Saves)

C:\Users[User]\AppData\Roaming\Vortex\stardewvalley
C:\Program Files (x86)\Steam\steamapps\common
Start a new save file after installing the mod, so there aren't any issues with the new map
When you want to temporarily go back to playing your non-modded saves (/saves with a completely different collection of mods) disable this collection in Vortex and reenable it the next time you play your modded save
(Not tested for multiplayer so be careful. Don't think there should be anything game breaking however)
---
Recommended specs
Hardware setup suitable for this collection.
---
Compatible collections
?
Includes mods from
21 authors
No mod authors found