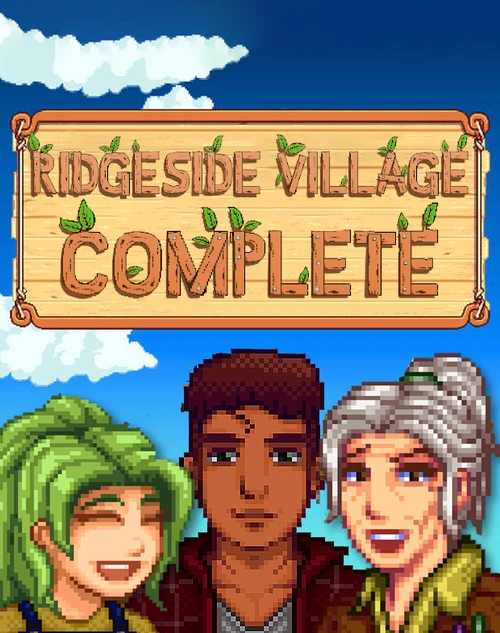 Ridgeside Village Complete Expansion
The full collection of mods required to visit Ridgeside Village. Tuned to work well with Stardew Valley 1.5.5.
Revisions

7

Last updated

1 month ago

Created

Dec 04, 2021

Downloads

177
Ridgeside Village is an expansion set in a picturesque village nestled on a ridge above Stardew Valley, adding over 50 new NPCs, and new items, shops, festivals, custom music, quests, and more!
Ridgeside Village adds over 50 new NPCs, a new location, new items, new shops, new festivals, custom music, custom quests, and more!
---
Thank You
Thanks to all the mod creators for making this collection possible, and thanks to you for downloading and recommending this collection.
Please support creators and recommend the individual mods if you enjoy them!
---
Optional NPC
Leilani is from Ember Island in the Fern Islands archipelago (like her husband!) and works away from the valley for most of the year, but every summer she comes back to spend time with her family, Pika and Keahi
June is a traveling pianist who starts working at the Ridgeside Village Log Cabin Hotel after the farmer moves to the valley. He's very polite, but he also seems very private... Combined with the fact that he's only there for half the year, will you be able to put in the time to see who he really is?
Please review optional mods and their requirements when downloading! All requirements ARE included in this collection.
---
Interested in other unique locations? Check out my other collections!
---
Want to learn more about why this mod collection was created and talk to the creator? Join the SuperFriends Discord!
Changelog
Rev 7 2022-02-12
Switched offsite mods to onsite versions
Rev 6 2022-02-01
Adjustments based on new requirements
Added
June - Custom NPC for Ridgeside Village
SAAT - Audio API
Removed
Success rate
The percentage of users saying this revision is working as expected.