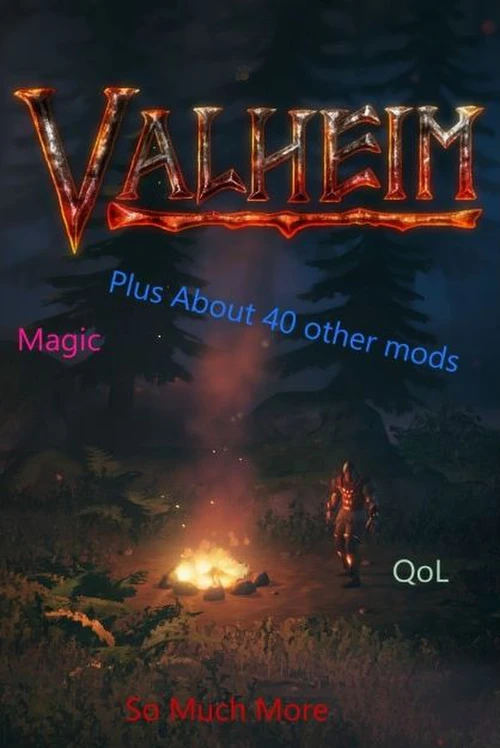 Add's roughly 40 Mods, only three external resources required. It's currently a realistic overhaul to the game with magic. I believe it's got cheat capabilities, I added as a precaution for potential future issues in the game, but you'd need to know what your doing with the menu's better than I do. I'm Currently working on making the entire list of currently added mods for you're benefit, at least between sessions and browsing.
Revisions

2

Last updated

5 months ago

Created

May 08, 2022

Downloads

32
Current settings for Mod list is to keep an updated Mod, so as up to prevent missing important updates. If I find an issue I'll create a collection to reflect dropping a primary component, or set non essential mods to specific versions that worked prior to updates and or remove them due to code being no longer updated/supported.
You Will Need to Add https://valheim.thunderstore.io/package/neurodr0me/RRRCore/
as well as https://valheim.thunderstore.io/package/neurodr0me/RRRNpcs/
Lastly you'll need the modified/updated version of UsefulTrophies.DLL from this discord link
https://github.com/Cllyde/ValheimMods/blob/develop/UsefulTrophies.dll (this will need to replace the existing DLL file inside the original mod, open the file location and place it inside the plugin folder of the UsefulTrophies folder.
This Mod Collection Includes:
Valheim Plus,
Vitality Rewrite,
ValheimVRM,
TeleportEverythng,
BiggerPickupRadius,