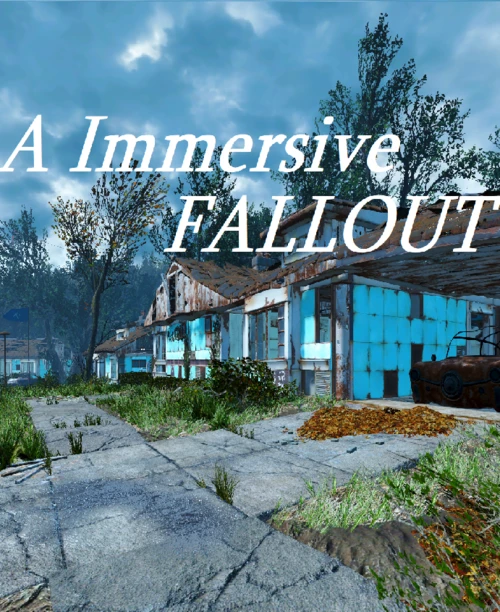 Tyler Atomic's - A Immersive Fallout
Welcome to a more Immersive Fallout, to Actual Realistic Headshots to Ultra 4k Textures. This makes fallout 4 feel like the way it should be. Fulfilling Your Fallout Moding Needs!
Revisions

5

Last updated

2 months ago

Created

Aug 15, 2022

Downloads

58
WELCOME To Your New Fallout!
---
This is a More Immersive Fallout To fulfill Your Immersive Desires. This Includes High Quality Mods That Improve and Fixes Fallout 4, Either a by Fix or Immersion.
---
What is in this collection?
- Updated Menu
A New Menu That Replaces The Original Low Resolution and 30fps Capped Screen to Pandemics "Dream" In 1080p at 60fps
- Added SFX and Audio
Better Footstep Noises, Music, Gun Shots, Ambience and Reverb
- Visual Overhauls
Overhauls including 2K and 4K Textures, Better Colors, Better Lighting and Shadows and Better Overall Visuals
- Complete Animation Overhaul
New, Better, Realistic Gun Animations, Being Able To Smoke Cigarettes and Cigars, Food and Aid Animations, New Hand Animations When Searching, Picking Up Things, And Activating Items.
- GUNS, GUNS & GUNS
Added High Quality Gun Mods That Spice Up The Original Fallout 4 Weapons, Also Added Well Made Mod Weapon Overhauls
- A Realistic World
Enjoy This Odd Beautiful New World That Includes, Alive Trees, More Grass, High Quality Textures, and a Overall More Immersive World.
---
Before Playing
- Notes & Warnings / Help
When Activating, Using or Searching a Object Make Sure To Double Press Your Activation Button (Default- E)

When Searching a Body or Container When Done Searching Right Click or Aim To Get Out of The Animation

Suggest to Disable Bethesda's HD Texture Pack - Help Video: https://www.youtube.com/watch?v=VMcCNeOvlkM

How To Install F4SE: https://www.nexusmods.com/fallout4/videos/230
- Requirements
All DLC's Are Required

F4SE Is Needed To Run
---
Recommended Settings
- Audio
Master - 20

Voice - 18

Music - 13 or 10

Effects - 20

Footsteps - 19 or 17

Radio - 16 or 13

Thunder - 20 or 18

Rain - 19 or 17

RAO-Ambience - 20 or 18

RAO-Reverb - 20 or 19
- Display
Actor Fade - 19

Item Fade - 18

Object Fade - 19

Grass Fade - 17
---
PC Specifications
Graphic Cards
30+ FPS - Min: NVIDIA GTX 550 Ti - AMD Radeon HD 7870 2GB, +More
60+ FPS - Min: NVIDIA GTX 1060 - Radeon RX-Vega 64 - NVIDIA RTX 1080 - NVIDIA RTX 2070, +More
RAM
30+ FPS - Min: 8GB
60+ FPS - Min: 16GB
CPU
30+ FPS - Min: Most AMD Ryzen 5's, Most Intel I5's
60+ FPS - Min: Most AMD Ryzen 7's, Most Intel I7's
---