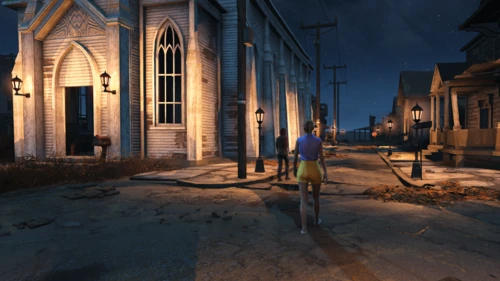 LarannKiar's Overhaul Mods
Much more life in Salem and in the Nuka World Parks.
Revisions

1

Last updated

2 weeks ago

Created

Aug 02, 2022

Downloads

2
About this collection:
Overhaul mods made by me.
Flourishing Salem: "Turnes Salem into a thriving and bustling town. Recruitable NPCs, Player Homes, Romancable Character, Outdoor Radio System, Stars and Stripes Dress, Unique Merchants, Random Conversations and many more..."
Nuka World Open Season Extend II: "You can populate Nuka World Parks with traders, settlers, travelers and main faction NPCs. You can also recruit Settlers and raise flags (U.S. and faction flags). Includes a new Park Management System."
Load order:
If you have a mod that alter Salem (e.g., adds new previsibility data), place Flourishing Salem below that mod. Aside from that, it does not matter. These mods are standalone.
Compatibility:
Flourishing Salem is incompatible with Previsibines Repair Pack as it contains a "Scrap anything" mode (since whole Salem is a settlement, it has build mode and scrap mode).
Nuka World Open Season Extend II is the further developed version of Nuka World Open Season Extend. Requires the Nuka-World DLC.
System requirements:
Nothing special, the base game's requirements are enough.