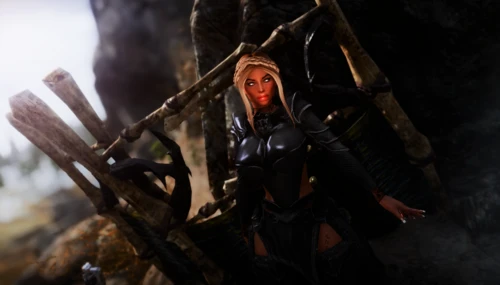 Revisions

1

Last updated

1 month ago

Created

Aug 29, 2022

Downloads

10
For people who want big booty baddies and shit
ONLY FOR SKYRIM SE, AE IS NOT COOL
---
Main content: Booty mods, other stuff like that, combat etc.
---
Before you start Download High Poly Head and Nuttyfit armor for Immersive Armors :D
Requirements Whole buncha lotta shit. USSEP, Alternate start, soft reqs, ADXP, (Rudy ENB or Pi-CHO), (Reshade)
Best practices Use brain to know which mods overwrite which, Its too much work for me to tell you :D
Recommended specs
Hardware setup suitable for this collection.
GPU Atleast RTX 2060 if using Rudy ENB and DyndoLOD on the HIGHEST SETTING
RAM 16gb
CPU Something around i5 9400-i7 7400
Mods on other websites:
failed to pack "1.rar": "1.rar" doesn't have Nexus as its source failed to pack "01 - Poser Hotkeys Version.7z": "01 - Poser Hotkeys Version.7z" doesn't have Nexus as its source failed to pack "ADXP+Beta+1.4.3 (1).zip": "ADXP+Beta+1.4.3 (1).zip" doesn't have Nexus as its source failed to pack "Battlestrider [SE] - CBBE.7z": "Battlestrider [SE] - CBBE.7z" doesn't have Nexus as its source failed to pack "CBBE HDT Piercing Sets - Conversion to SSE 3BBB 1.2.1.7z": "CBBE HDT Piercing Sets - Conversion to SSE 3BBB 1.2.1.7z" doesn't have Nexus as its source failed to pack "CBBE HDT Piercing Sets v1.0.7z": "CBBE HDT Piercing Sets v1.0.7z" doesn't have Nexus as its source failed to pack "DMCO_0.9.6.zip": "DMCO_0.9.6.zip" doesn't have Nexus as its source failed to pack "Dangerous Jewelry [SE] (optional SMP).7z": "Dangerous Jewelry [SE] (optional SMP).7z" doesn't have Nexus as its source failed to pack "Deze Clothing - Main": "Deze-Clothing-V2-P" is missing mod id or file id failed to pack "Deze Clothing BS - 3BA": "Deze-Clothing-V2-P-BS-3BA" is missing mod id or file id failed to pack "Disable Turn Animation.7z": "Disable Turn Animation.7z" doesn't have Nexus as its source failed to pack "DynDOLOD_Output.rar": "DynDOLOD_Output.rar" doesn't have Nexus as its source failed to pack "GSPoses SE 15 05.7z": "GSPoses SE 15 05.7z" doesn't have Nexus as its source failed to pack "For Shadow I Shall SIMP": "High_Poly_Headv1.4(SE)" is missing mod id or file id failed to pack "Immersive_Armors_NuttyFit_CBBE_SE_replacer_with_Bodyslide_1.1.0.7z": "Immersive_Armors_NuttyFit_CBBE_SE_replacer_with_Bodyslide_1.1.0.7z" doesn't have Nexus as its source failed to pack "Merns+ER+Smoothcam+Preset.rar": "Merns+ER+Smoothcam+Preset.rar" doesn't have Nexus as its source failed to pack "Nemesis Unlimited Behavior Engine": "Nemesis.Unlimited.Behavior.Engine.v0.84-beta" is missing mod id or file id failed to pack "SSEEdit 4_0_3": "SSEEdit 4_0_3-164-4-0-3-1575326827" is missing mod id or file id failed to pack "Particle Patch for ENB": "Skyrim_Particle_Patch_for_ENB-SSE" is missing mod id or file id failed to pack "Speed and Reach Fixes": "Speed and Reach Fixes-29847-0-1-9-1590012839" is missing mod id or file id failed to pack "TAWOBA REMASTERED 6.1 CBBE SE.7z": "TAWOBA REMASTERED 6.1 CBBE SE.7z" doesn't have Nexus as its source failed to pack "TexGen_Output.rar": "TexGen_Output.rar" doesn't have Nexus as its source failed to pack "Vanilla Chokers & Earrings [SE].7z": "Vanilla Chokers & Earrings [SE].7z" doesn't have Nexus as its source failed to pack "WetFunctionRedux SE.7z": "WetFunctionRedux SE.7z" doesn't have Nexus as its source failed to pack "[COCO] Accessories [SE] - CBBE - BHUNP.7z": "[COCO] Accessories [SE] - CBBE - BHUNP.7z" doesn't have Nexus as its source failed to pack "[COCO] Lace Lingerie [SE] - 3BA.7z": "[COCO] Lace Lingerie [SE] - 3BA.7z" doesn't have Nexus as its source failed to pack "[Dint999] HairPack02 SSE (v0.09).7z": "[Dint999] HairPack02 SSE (v0.09).7z" doesn't have Nexus as its source failed to pack "grass.rar": "grass.rar" doesn't have Nexus as its source failed to pack "textures+mip.7z": "textures+mip.7z" doesn't have Nexus as its source failed to pack "zEditv0.6.6.1-_Portable_x64.7z": "zEditv0.6.6.1-_Portable_x64.7z" doesn't have Nexus as its source