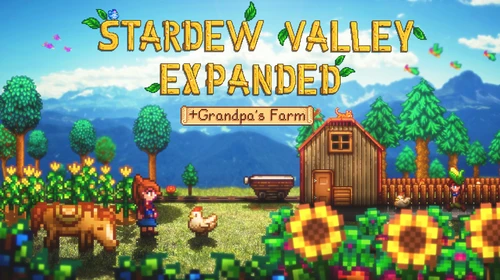 SVE + Grandpa's Farm - Multiplayer
SVE with dependencies as well as a focus on multiplayer. Includes a time mod to extend time slightly as time never stops in multiplayer naturally.

Swoogzy
Last updated:
|
Published:
Description
Stardew Valley Expanded is a fanmade expansion for ConcernedApe's Stardew Valley. It works to build additional backstory and experiences into the world, as well as adding new maps and characters. On top of that will be improvements to fishing to make it a more enjoyable experience, as well as the ability to modify time since in multiplayer, it never stops!
---
Main features
27 new NPCs
50 locations
260 character events
23 fish
Reimagined vanilla areas
Two farm maps (Grandpa's Farm in this pack)
A reimagined world map reflecting all changes
New music
Questlines
Festivals
Many miscellaneous additions!
Also includes Teh's Fishing Overhaul to improve the fishing experience and TimeSpeed for multiplayer.
---
Mods By
No mod authors found